Can an Arrest Warrant be Recalled or Dropped?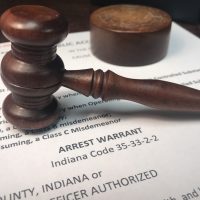 An arrest warrant can be recalled. "Recalled" is the appropriate terminology in Indiana. A warrant is technically just a court order. The court order is to the police to arrest a person when they find them and to bring them before the judge. And just like any other order, the judge can rescind that order if they're persuaded that it's reasonable to do so. Occasionally, they're rescinded on somebody's promise to show up, if they set a date, or something like that. But sometimes they aren't either, and sometimes the person just has to turn themselves in.
~ Excerpt from Episode 10 of Tales from the Brown Desk.
If you have a warrant for your arrest, you should consult with an attorney. There are a number of different ways an arrest warrant can be dealt with. Ultimately you could end up having to surrender yourself to the police, but there are a couple maneuvers an attorney may want to try before you turn yourself in. For example, don't turn yourself in on Friday of Memorial Day weekend. Maybe do it on Monday or coordinate the surrender with the court. Consult with an attorney first.