Can Theft, Burglary, and Robbery Convictions be Expunged?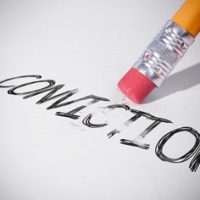 Theft convictions can be expunged fairly easily. Robbery and burglary, not so much.
Both robbery and burglary convictions can still be expunged, but those are discretionary, which means it's up to the judge. However, even if robbery and burglary convictions are expunged, they'll still show up in background searches. There will just be a notation at the bottom of the case chronology that says this record was expunged.
With theft, since that's usually just a misdemeanor or a level six felony, or back in the old days it was a D felony, those can be expunged by right. When they are they are not made for available for public consumption anymore, and they kind of do disappear. Now it's not perfect, and sometimes they'll still show up somewhere, but they're not supposed to.
More on expungements including wait times and requirements.
For more on theft, robbery, and burglary, listen to episode 25 of Tales from the Brown Desk.