Are Plea Deals Offered in All Criminal Cases?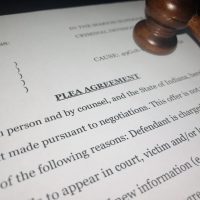 Plea Deals Are Offered in the Vast Majority of Criminal Cases
Plea deals are not offered in all criminal cases. Although, plea deals are offered in the vast majority of criminal cases. Even on murder cases there will usually be some sort of plea offer. Obviously murder cases get negotiated by plea agreement much less often than lower level cases, but in almost every case there's going to be some sort of plea offer. And that even includes death penalty cases. Sometimes the state will charge the defendant with a crime and seek the death penalty, but then offer a term of life without parole in return for his guilty plea. But there is no right to a plea offer. The state does not have to make a plea offer. They do not have to resolve a case by plea agreement. They can choose to take any case they want to trial, unless the defendant decides to just admit guilt without a trial.
~Indianapolis Criminal Defense Attorney Jacob Rigney in an excerpt from Episode 16 of Tales from the Brown Desk.